If you are looking for dental veneers in Turkey, generally your first question will be "How much is a full set of veneers in Turkey", this question is not easy to answer. Because at first, we should see your smile line. Every patient might need different numbers of veneers, thanks to online consultation you could learn how many veneers you need from us.
WHAT IS SMILE LINE?

Simply, we could refer smile line in dentistry as; teeth number people see when you are smiling. When you smile, there is a border starting from the superior border of the lower lip. So dentists should see your smile line, exactly to say how many veneers you need for your smile makeover.
At first please send your pictures to us by email or via Whatsapp, we will tell you how many veneers you need for your smile makeover in Turkey.
How To Take Good Pictures For Online Consultation?
We need at least 5 pictures to see your mouth angles correctly, please send us your in high quality and focused. These angles: closed bite check, from the left (closed), from the right (closed), open mouth upper jaw, and open mouth lower jaw.
We will be really happy if you could send us x-ray, don't worry about expenses, whatever you pay in the UK for an x-ray, we will do discount same as that price. So your x-ray in the UK also is a free service for you.
How much veneers cost in Turkey?
We could you example offers about a full set of veneers prices; we recommend you to have zirconium veneers or e.max veneers. You could also check the dental treatment prices page for more details.
We offer free accommodation for dental treatment which exceed 2500 GBP/USD or EURO.
We have different options for our patients, metal-based porcelain crowns/veneers, zirconium porcelain crowns/veneers and E.max porcelain crowns/veneers. 
In some cases, we still use metal ones but most popular and effective options are zirconium and E.max for smile makeover patients. You could also have Noritake Super Porcelains if you are looking for whitest shade all over the world.
We suggest zirconium porcelain crowns/veneers for patients who are looking for Hollywood white smile makeovers. Zirconium is nearly suitable for all patients who don't have any big gaps. On big gaps we suggest dental Implants.
E.max is a more natural look and the patient shouldn't have any gaps, rotten teeth and root canal treatments. We require these terms because E.max reflects patients real teeth condition.
Zirconium Porcelain Veneers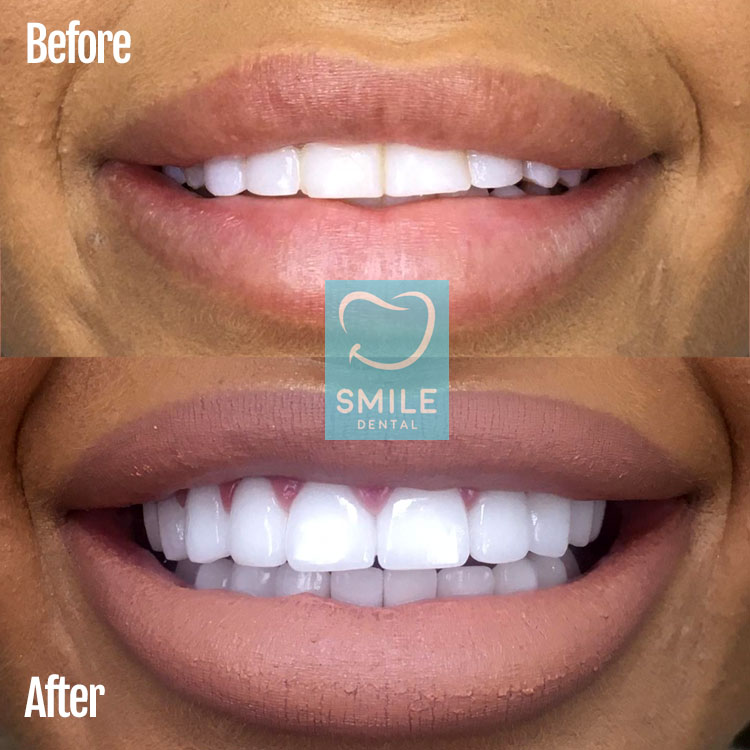 Zirconium porcelain veneers/crowns are suggested for patients who would like to have a Hollywood white smile.
Upper jaw 10  Zirconium veneers, lower jaw 10 Zirconium veneers (20): £3700 / € 4161 / $ 4788
Upper jaw 8 Zirconium veneers,  lower jaw 8 zirconium Veneers: £3000 / € 3328 / $ 3830
These prices are card payable prices, please contact for cash payable prices and group discounts, if you come with more than one person we have group discounts.
Cash payments have %10 discount and group discounts have %5 discount rate.
E.Max  Porcelain Veneers
Not all patients could have E.Max, thanks E.Max transparency patients shouldn't have any root canal treatments and gaps. Otherwise, E.Max won't give the patient a perfect smile.
Upper jaw 10  Emax Veneers, lower jaw 10 E.max Veneers : £4750 / € 5301 / $ 6630
Upper jaw 8 Emax Veneers,  lower jaw 8 E.max Veneers : £3800 / € 4240 / $ 5300
These prices are card payable prices, please contact for cash payable prices and group discounts, if you come with more than one person we have group discounts.
Cash payments have %10 discount and group discounts have %5 discount rate.
WHICH VENEERS ARE THE BEST ZIRCONIUM OR E.MAX PORCELAIN VENEERS?
This is a very common question from our patients, we really want to answer that question. Not all patients could have E.max porcelain veneers/crowns because we could manufacture E.max one by one that means we can't do a bridge with them. Also if patient does have rotten teeth, root canal treatment patient shouldn't have E.max because there is no meaning for that. E.max reflects patients real teeth colour so in that way E.max could give a natural smile for the patient. Rotten teeth and root canal treatments will give not aesthetic shades for a smile makeover. So our answer is NO for E.max we can't say that that is the best material.
Zirconium could close your gaps, rotten teeth and root canal treatments and could give you superb white shades. If you are looking for that zirconium will be the best option for you. If you have pretty healthy teeth and looking for natural smile E.max will be the best option for you.
Also, we see that some people claim E.max is the most durable material because it is expensive and they really want to sell that. We could give lab test examples, MPA is a pressure test which has done in labs. So as you see our zirconium blocks are nearly 2-3 times more durable for MPA tests than E.max.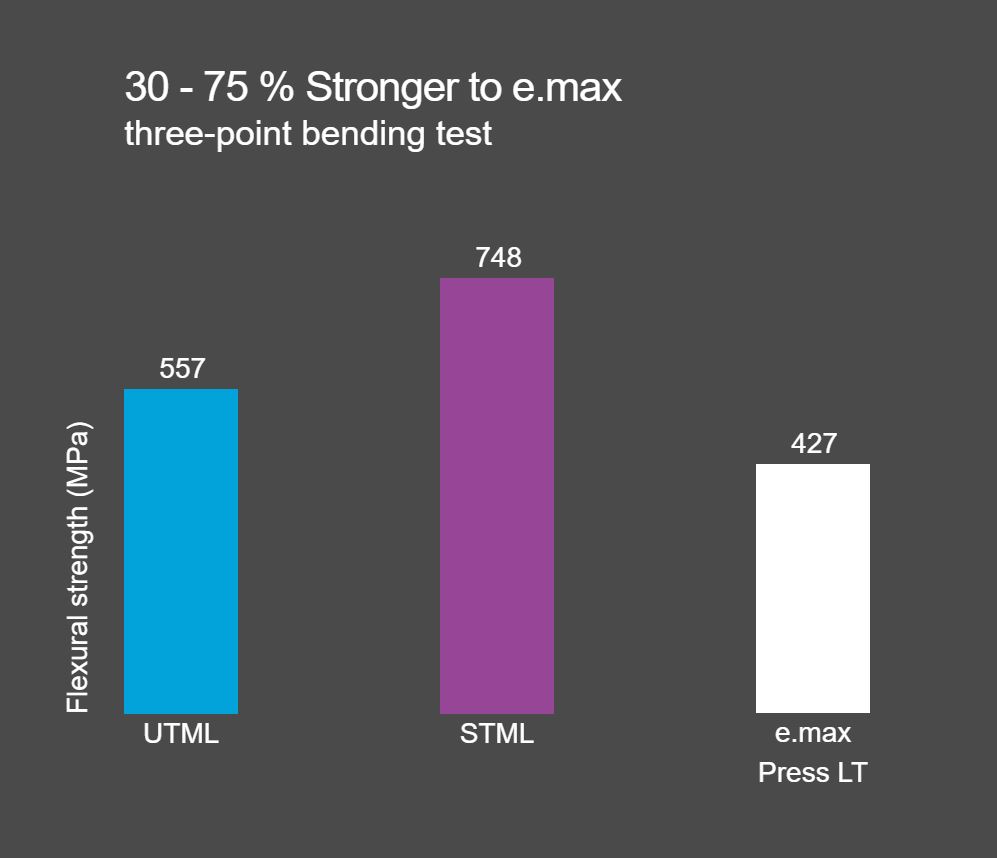 DO YOU HAVE VENEERS PACKAGE?
We have veneers package for patients who would like to have 20 veneers. We provide our patients with dental treatments, transfers; which includes airport, hotel and clinic. Also, we do offer free accommodation for our patients. We will offer you breakfast included 7 nights, single room.
Hotels are not far away from city centre and seaside, definitely you will enjoy your holiday here. We offer this service for in the off-season. This veneers package not valid in June, July and August.
HOW LONG IT TAKES TO HAVE VENEERS IN TURKEY?
As a dental clinic, we are asking for 5 workdays for full set of veneers. Patients should book their flights for 5 days. The procedure is normally doesn't take too much time but we need to wait for 48 hours to prepare veneers at our lab.
After 48 hours we will start your trials and we could finish your new smile in 5 days at most.
Your first day will start with consultation and documentation. Generally, patient's dental treatment process takes 1-2 hours and we prepare temporary teeth in 3 hours. In 48 hours we will start your trials.
For understanding the procedure for veneers in Turkey, you could watch Chloe's journey with us.
When could you visit Turkey for Dental Travel after COVID-19 Pandemic?
At the beginning of 2020, none was expected to have such a pandemic situation. Until 12th March 2020, Turkey has closed its borders to all countries.
All cafes, restaurants. Parks, seasides, local transportation between cities are still closed in Turkey. Especially  Istanbul is especially quarantined.
We are in May and now all people would like to have the normalization process as soon as possible.
When Flights Will Be Available For Turkey
There are some rumours but still, there is not any legal announcement about flight dates. But as we heard that some of the flights will be available on these dates.
The UK: British patients could visit with THY (Turkish Airlines) flights if they would like to visit us earlier than 15th July.  Jet2 and Easyjet started to sell tickets after 15th July.
German patients could visit us anytime but they could have 15th quarantine unless they had a corona test in recent 2 days before arrival to Germany. Robert Koch institute declared that they will accept test results from Turkey.
Do You Have Cad/Cam and 3D Scan?
Yes, we have cad-cam, we scan your mouth with 3D Teeth Scan and we process all veneers by CAD/CAM in the lab by these sizes for perfect results. Please check our dental clinic page for more details.
For a few veneers we could measure your teeth in the morning and in the afternoon we could finish your process. But for full mouth veneers, we need 2-3 days to finish. At that time period, you will have your temporary veneers which are given by us for free.
Do You Have Any Hidden Costs?
No, we don't have any hidden costs, there is no trick on our prices, we won't charge you for anything else. we offer Free Consultation for our patients which includes Panoramic X-Ray, 3D Tomography, and Oral Examination. We also do not charge for any dental products, laboratory costs, dentist fee or injections. The costs above are all-inclusive for the completion of your dental treatment.
Which Free Services Do You Offer?
We would like to take your responsibility at the start of your journey. We will greet you at the airport. We will transfer you to your accommodation and we offer free return pick up services for your every dental appointment in our clinic to provide hassle-free dental travel experience.
All our transfer services will be handled by our patient coordinators, you will have someone with you every time who is speaking English.
Do You Have No Worries Warranty?
Yes we have no worries warranty, when you return home if you have some issues, you are free to return back to Turkey for your dental treatment, we will pay all your expenses.
Also, all dental Implants has a warranty for a lifetime. Veneers have 5 years warranty for every case.
HOW MANY DAYS NEEDED FOR GETTING VENEERS IN TURKEY?
Dental veneers procedure needs 5 days at most. The procedure starts with shaving down teeth process. It will only take an hour and the procedure is totally pain-free. In 3-4 hours patient's temporary teeth will be ready and the lab will start to manufacture new veneers. In 48 hours patient's veneers will be ready. After 48 hours patient's trial will start and with last touches, the dental procedure will be finished in 4 days. For caution reasons, patients should start at least 5 days in Turkey for getting veneers.
TEMPORARY TEETH
After shaving down teeth process, the patient's teeth will be very sensitive, patient could continue regular life with temporary teeth. Temporary teeth were made of acrylic material. 
Temporary teeth are not same colour and same shape with veneers.
Where Is Your Dental Clinic?
Smile Dental Turkey is located in Antalya, we are in the city centre. Just 15 minutes from the airport, close to the old town and big shopping malls.
Antalya is the first places that come to mind in summer tourism in Turkey. Natural beauties, rich history, endless beaches have a heavenly atmosphere for holiday lovers.
Antalya which has many ancient cities spends a large portion of the year under sunlight. In this way attracts the attention of all foreign tourists. The city offers supernatural views. The caves, greenery, nature, and sea make Antalya a special holiday paradise. If you want to explore streets with palm trees and long beaches, you must come to Antalya for a holiday.
What are the places to visit in Antalya, a holiday paradise? If you want to increase the pleasure of your holiday in Antalya twice as much, you must visit these special places of Antalya. Here are those special places.
Kaleiçi (Old Town)
If you ask where is the most beautiful place to visit Antalya, everyone will say Kaleiçi. Because there's history here. This place reflects the history of Antalya. A wonderful place with its castle, Ottoman-era objects, and old houses. You can find boutique hotels, cafes, and restaurants in any style you want. Those who come to Antalya for a holiday or a trip must visit this paradise.
Atatürk Culture Park
A park that extends from Antalya Kaleiçi to Konyaaltı beach. On the one hand the Mediterranean, on the other hand, trees, seating areas, facilities, ponds. Briefly, you can find what you want here. Bike routes, walking places, and restaurants attract attention. If you are coming to Antalya, you must visit Atatürk Culture Park.
Termessos Ancient City
This ancient city known for its ancient theatre for four thousand people stands out as considered to be one of the best-preserved places in Turkey. It is one of the places you should definitely see in Antalya with its temples covered by forests, its ancient theatre, an agora. If you want to fully enjoy your trip, you should visit this historic area.
Karain Cave
It is one of the largest natural caves you can find in Turkey. The cave brings history to your feet with the ruins of the Neolithic, Paleolithic and Mesolithic periods. The cave which is located on the slope of Gulluk has three galleries. If you have decided to come to Antalya and looking for a place to visit Karain Cave is for you.
Kurşunlu Waterfall
With its water falling down from 18 meters height and ponds create a heavenly atmosphere. The waterfall located in a canyon has been opened for public visits in 1986. Nowadays, the place, which is used as a National Park area, offers great pleasure with its wide walking areas. This is one of the must-see places in Antalya.