At Smile Dental Turkey, we are committed to revolutionizing your dental health journey by combining it with an enriching, worry-free travel experience. We appreciate the apprehension that often accompanies the decision to seek dental treatment overseas - concerns about the quality of care, service professionalism, and the credibility of the provider. Our aim is to put all such concerns to rest.
We are proud to emphasize our impressive standing on Trustpilot, a platform acclaimed for its honest, verified user reviews. The glowing testimonials from our broad spectrum of clients bear testament to our unwavering commitment to superior service, customer satisfaction, and healthcare excellence.
Our Trustpilot profile offers a transparent insight into Smile Dental Turkey's values, standards, and the bespoke experiences we deliver. It is an affirmation of our quality, dependability, and consistency, which we view as fundamental to our service ethos.
This feedback underscores our primary attributes - the standard of our dental treatments, the competence of our dental professionals, the advanced nature of our facilities, the transparency of our pricing, and above all, our dedication to each client's well-being and comfort.
One of our foremost priorities at Smile Dental Turkey is to provide cost-effective, superior-quality dental solutions without compromising on patient care or experience. Our partnerships with world-class dental facilities and professionals around the globe ensure you receive only the best dental care.
Whether you're contemplating a cosmetic dentistry procedure, oral surgery, or looking for affordable general dental treatments, our comprehensive services cater to a broad spectrum of dental healthcare.
We recognize that medical tourism isn't just about the treatment; it's an opportunity for cultural exploration and relaxation. Hence, we go above and beyond to ensure that your journey is not only beneficial from a health perspective but is also rich in cultural experiences and leisure opportunities at your chosen destination.
Smile Dental Turkey promises a smooth experience with services including accommodation arrangements, scheduling appointments, transport services, and even providing post-treatment support. Our dedicated team is always ready to ensure your experience is effortless, enjoyable, and above all, enriching to your life.
We invite you to explore our Trustpilot profile to understand more about the experiences of our past clients. We are confident their testimonials will vouch for the quality of our services, offering you the assurance you need when choosing Smile Dental Turkey for your dental treatment journey abroad.
Choose Smile Dental Turkey and join our community of content customers who have discovered the benefits of blending dental health improvement with the pleasure of travel. Our proven reputation on Trustpilot is your assurance for a safe, high-quality, and memorable medical tourism adventure.
At Smile Dental Turkey, your smile is our success story. Let us help you write yours.
We offer high-quality and affordable veneers for our patients till 2009. We have Medical Tourism Certificate and ISO9001, our Trustpilot reviews reflect our experience and quality.
Smile Dental Turkey: The Trustworthy Choice for Dental Medical Tourism?
In the era of increasing global connectivity, the decision to pursue dental treatments abroad has become increasingly common. However, as the number of medical tourism clinics proliferates, selecting the right one becomes more challenging. While many new clinics are promising enticing prices, one must consider the harmony of quality, experience, and customer satisfaction. Here's why Smile Dental Turkey should be your premier choice in your dental health journey.
Firstly, the significant edge that Smile Dental Turkey holds over emerging clinics is our long-standing establishment in the field. Since 2009, we have been providing exceptional dental services to our local and international patients. Our extensive experience has refined our understanding of patient needs, expectations, and comfort, enabling us to provide personalized and proficient care.
Secondly, while attractive prices might be a tempting factor, remember that dental care is an investment in your health and well-being. Lower costs should not mean lower quality. At Smile Dental Turkey, we firmly believe in offering cost-effective treatments without compromising on the high standard of care. Our well-established connections with global dental equipment and material suppliers enable us to provide top-quality treatments at competitive prices.
Thirdly, our commitment to quality is not merely an assertion, but it is verified by our glowing Trustpilot reviews. Trustpilot, a platform celebrated for its honest and verified user reviews, serves as a testament to our unwavering dedication to superior service, patient satisfaction, and healthcare excellence. These reviews provide clear insight into our service quality, professional conduct, and patient experience. Our clients consistently commend us for our high-quality treatments, professional team, and exceptional customer service.
Lastly, our team of dental professionals is highly qualified and experienced. Their expertise, coupled with our state-of-the-art facilities and modern equipment, ensures that you receive the best dental care. Moreover, we continually update our practices and procedures in line with the latest advancements in dental science, ensuring that you receive the most effective and comfortable treatment possible.
In conclusion, while the increasing number of clinics may offer you a myriad of choices and competitive prices, it's crucial to prioritize quality and experience when it comes to your health. Smile Dental Turkey, with its years of expertise, commitment to quality, and proven track record, ensures not only the perfect smile but also a smooth and enjoyable dental tourism experience. Let our Trustpilot reviews and the smiles of our satisfied patients be your guide in making the right choice for your dental health journey. Choose quality, experience, and verified customer satisfaction. Choose Smile Dental Turkey.
WHAT IS A SMILE LINE?
Simply the smile line in dentistry refers to the number of teeth seen when you are smiling. When you smile, there is a border starting from the superior border of the lower lip. So dentists should see your smile line, exactly to say how many veneers you need for your smile makeover.
First please send your pictures to us by e-mail or via Whatsapp, we will tell you how many veneers you need for your smile makeover in Turkey.
How To Take Good Pictures For Online Consultation?
At least 5 photos are necessary for your mouth angles to be seen correctly. High-quality and clear photos are specifically requested.

These angles:

closed bite check
from the left (closed)
from the right (closed)
open mouth upper jaw
open mouth lower jaw.

A panoramic x-ray may also be required, and providing that you experience any difficulty to find a clinic for the x-ray, we can arrange an appointment online in certain locations in the UK.
How much do veneers cost in Turkey?
We could you example offers about a full set of veneers prices; we recommend you to have zirconium veneers or e.max veneers. You could also check the dental treatment prices page for more details.
We offer free accommodation for dental treatments which exceed 2500 GBP/USD or EURO
We have different options for our patients, metal-based porcelain crowns/veneers, zirconium porcelain crowns/veneers, and E.max porcelain crowns/veneers.
In some cases, we still use metal ones but the most popular and effective options are zirconium and E.max for smile makeover patients. You could also have Noritake Super Porcelains if you are looking for the whitest shade all over the world.
We suggest zirconium porcelain crowns/veneers for patients who are looking for Hollywood white smile makeovers. Zirconium is nearly suitable for all patients who don't have any big gaps. On big gaps, we suggest dental Implants.
E.max is a more natural look and the patient shouldn't have any gaps, rotten teeth, and root canal treatments. We require these terms because E.max reflects patients' real teeth condition.
Zirconium Porcelain Veneers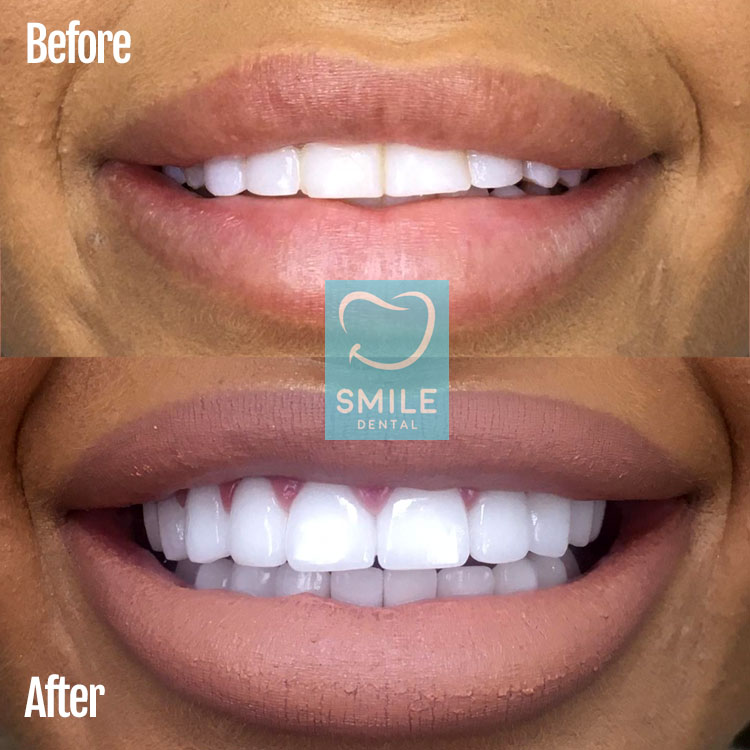 Zirconium porcelain veneers/crowns are suggested for patients who would like to have a Hollywood white smile.
Upper jaw 10 Zirconium veneers, lower jaw 10 Zirconium veneers (20): £3700 / € 4161 / $ 4788

Upper jaw 8 Zirconium veneers, lower jaw 8 zirconium Veneers: £3000 / € 3328 / $ 3830
These prices are card payable prices, please contact for cash payable prices and group discounts, if you come with more than one person we have group discounts.
Cash payments have %10 discount and group discounts have %5 discount rate.
E.Max Porcelain Veneers
Not all patients could have E.Max, thanks E.Max transparency patients shouldn't have any root canal treatments and gaps. Otherwise, E.Max won't give the patient a perfect smile.
Upper jaw 10 Emax Veneers, lower jaw 10 E.max Veneers : £4750 / € 5301 / $ 6630

Upper jaw 8 Emax Veneers, lower jaw 8 E.max Veneers : £3800 / € 4240 / $ 5300
These prices are card payable prices, please contact for cash payable prices and group discounts, if you come with more than one person we have group discounts.
Cash payments have %10 discount and group discounts have %5 discount rate.
WHICH VENEERS ARE THE BEST ZIRCONIUM OR E.MAX PORCELAIN VENEERS?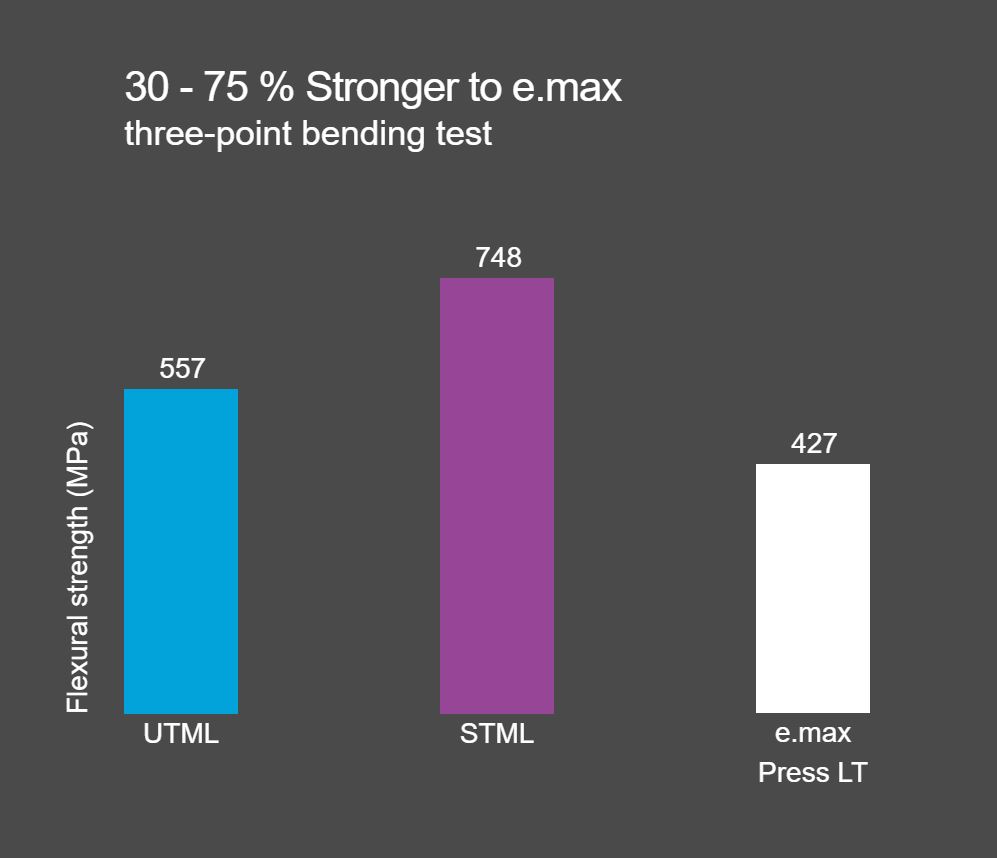 This is a very common question from our patients, we really want to answer that question. Not all patients could have E.max porcelain veneers/crowns because we could manufacture E.max one by one which means we can't do a bridge with them. Also if the patient does have rotten teeth, root canal treatment patients shouldn't have E.max because there is no meaning for that. E.max reflects the patient's real teeth color so in that way E.max could give a natural smile to the patient. Rotten teeth and root canal treatments will give no aesthetic shades for a smile makeover. So our answer is NO for E.max we can't say that that is the best material.
Zirconium could close your gaps, rotten teeth, and root canal treatments and could give you superb white shades. If you are looking for that zirconium will be the best option for you. If you have pretty healthy teeth and looking for a natural smile E.max will be the best option for you.
Also, we see that some people claim E.max is the most durable material because it is expensive and they really want to sell that. We could give lab test examples, MPA is a pressure test that has been done in labs. So as you see our zirconium blocks are nearly 2-3 times more durable for MPA tests than E.max.
DO YOU HAVE A VENEERS PACKAGE?
We have veneers package for patients who would like to have 20 veneers. We provide our patients with dental treatments and transfers; which include the airport, hotel, and clinic. Also, we do offer free accommodation for our patients. We will offer you breakfast including 6 nights, single room.
Hotels are not far away from the city center and the seaside, definitely you will enjoy your holiday here. We offer this service in the off-season. This veneers package is not valid in June, July, and August.
HOW LONG DOES IT TAKE TO HAVE VENEERS IN TURKEY?
As a dental clinic, we are asking for 5 workdays for a full set of veneers. Patients should book their flights for 5 days. The procedure normally doesn't take too much time but we need to wait for 48 hours to prepare veneers at our lab.
After 48 hours we will start your trials and we could finish your new smile in 5 days at most.
Your first day will start with consultation and documentation. Generally, a patient's dental treatment process takes 1-2 hours and we prepare temporary teeth in 3 hours. In 48 hours we will start your trials.
For understanding the procedure please watch our smile makeover instructions.
When could you visit Turkey for Dental Travel after COVID-19 Pandemic?
Turkey doesn't require any PCR test If you are vaccinated. If you are not vaccinated please check your country travel guide to Turkey, you may require a PCR test 48 hours to your flight.
Do You Have Cad/Cam and 3D Scan?
Yes, we have a cad-cam, we scan your mouth with a 3D Teeth Scan and we process all veneers by CAD/CAM in the lab by these sizes for perfect results. Please check our dental clinic page for more details.
For a few veneers we could measure your teeth in the morning and in the afternoon we could finish your process. But for full mouth veneers, we need 2-3 days to finish. At that time period, you will have your temporary veneers which are given by us for free.
Do You Have Any Hidden Costs?
No, we don't have any hidden costs, there is no trick on our prices, we won't charge you for anything else. we offer Free Consultation for our patients which includes Panoramic X-Ray, 3D Tomography, and Oral Examination. We also do not charge for any dental products, laboratory costs, dentist fee or injections. The costs above are all-inclusive for the completion of your dental treatment.
Which Free Services Do You Offer?
We would like to take your responsibility at the start of your journey. We will greet you at the airport. We will transfer you to your accommodation and we offer free return pick up services for your every dental appointment in our clinic to provide a hassle-free dental travel experience.
All our transfer services will be handled by our patient coordinators, you will have someone with you every time who is speaking English.
Do You Have No Worries Warranty?
Yes we have no worries warranty, when you return home if you have some issues, you are free to return back to Turkey for your dental treatment, we will pay all your expenses.
Also, all dental Implants has a warranty for a lifetime. Veneers have 5 years warranty for every case.
HOW MANY DAYS ARE NEEDED FOR GETTING VENEERS IN TURKEY?
The dental veneers procedure needs 5 days at most. The procedure starts with a shaving down teeth process. It will only take an hour and the procedure is totally pain-free. In 3-4 hours patient's temporary teeth will be ready and the lab will start to manufacture new veneers. In 48 hours patient's veneers will be ready. After 48 hours patient's trial will start and with the last touches, the dental procedure will be finished in 4 days. For cautious reasons, patients should start at least 5 days in Turkey for getting veneers.
TEMPORARY TEETH
After shaving down teeth process, the patient's teeth will be very sensitive, the patient could continue regular life with temporary teeth. Temporary teeth were made of acrylic material.
Temporary teeth are not the same color and same shape as veneers.
Where Is Your Dental Clinic?
Smile Dental Turkey is located in Antalya, we are in the city center. Just 15 minutes from the airport, close to the old town and big shopping malls.
Antalya is the first place that comes to mind in summer tourism in Turkey. Natural beauties, rich history, and endless beaches have a heavenly atmosphere for holiday lovers.
Antalya which has many ancient cities spends a large portion of the year under sunlight. In this way attracts the attention of all foreign tourists. The city offers supernatural views. The caves, greenery, nature, and sea make Antalya a special holiday paradise. If you want to explore streets with palm trees and long beaches, you must come to Antalya for a holiday.
What are the places to visit in Antalya, a holiday paradise? If you want to increase the pleasure of your holiday in Antalya twice as much, you must visit these special places of Antalya. Here are those special places.
Kaleiçi (Old Town)
If you ask where is the most beautiful place to visit Antalya, everyone will say Kaleiçi. Because there's history here. This place reflects the history of Antalya. A wonderful place with its castle, Ottoman-era objects, and old houses. You can find boutique hotels, cafes, and restaurants in any style you want. Those who come to Antalya for a holiday or a trip must visit this paradise.
Atatürk Culture Park
A park that extends from Antalya Kaleiçi to Konyaaltı beach. On the one hand the Mediterranean, on the other hand, trees, seating areas, facilities, ponds. Briefly, you can find what you want here. Bike routes, walking places, and restaurants attract attention. If you are coming to Antalya, you must visit Atatürk Culture Park.
Termessos Ancient City
This ancient city known for its ancient theatre for four thousand people stands out as considered to be one of the best-preserved places in Turkey. It is one of the places you should definitely see in Antalya with its temples covered by forests, its ancient theatre, an agora. If you want to fully enjoy your trip, you should visit this historic area.
Karain Cave
It is one of the largest natural caves you can find in Turkey. The cave brings history to your feet with the ruins of the Neolithic, Paleolithic and Mesolithic periods. The cave which is located on the slope of Gulluk has three galleries. If you have decided to come to Antalya and looking for a place to visit Karain Cave is for you.
Kurşunlu Waterfall
With its water falling down from 18 meters height and ponds create a heavenly atmosphere. The waterfall located in a canyon has been opened for public visits in 1986. Nowadays, the place, which is used as a National Park area, offers great pleasure with its wide walking areas. This is one of the must-see places in Antalya.